Our Lady of Sorrows
Pasos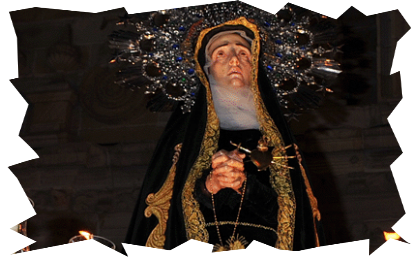 IMAGER
Quentin Torre (1877 Bilbao -
Bilbao 1966)
YEAR OF IMPLEMENTATION
XX
c
entury
PROPERTY
St. Vincent Martyr Parish Abando
PROCESSION
The afternoon of Good Friday
FEATURES
Steps in the Museum are exhibited only the poles, shared with Our Lady of Ramos and Rosario.
The image is in the parish of San Vicente Martir de Bilbao (Calle San Vicente 3, Abando), where he worships.
The procession bearing his name was recovered in the year 1994. Stresses the face and crown and mantle.